N5Scan Overview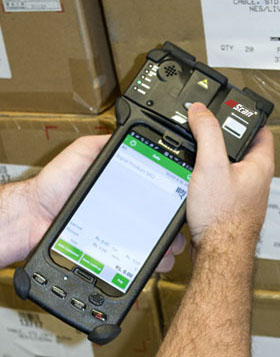 The N5Scan is raising the bar for "all-in-one" scanning devices. The N5Scan is the best all-in-one ultra-rugged handheld scanning device. The device incorporates Honeywell's N6603 Series Adaptus 6.0 technology for unparalleled 1D and 2D scanning performance.
The Device has the following features:

Thermal printing on either Direct thermal roll or Polyvinyl paper (water proof and tear proof paper)
1D and 2D bar-code / QR Code Scanning
Mag Stripe Credit Card Reader
Android Samsung 4g LTE Phone
Rugged casing sealed to IP65 water resistant and shock tested
Setting up the N5Scan to be used on clients VMDT configuration
In order for the N5Scan's features to be used with the aVMDT application, a token value needs to be added to the clients VMDT config token. It is recommended that a new token be created when using this new token value as it will force the device to display the app in portrait mode instead of landscape.
Under the Section of the device config you need to add NSSCAN=1
This will tell the aVMDT to allow the use of the N5Scan device and all of its features.
aVMDT N5Scan Menu Options
When the N5Scan token is set it allows new menu options specifically designed for testing the unit. It will unlock a barcode test scan menu option, a credit card swipe testing menu option, and a printing menu testing option. The barcode scanning test will also print out the scanned bar-code.


Swiping credit card will display an alert stating that it received the credit card data swipe which means the credit card swipe was successful
The Barcode scanning testing option will allow the user to scan any type of bar-code. If it was successful a message will appear and if the printer gate is open it will print the scanned bar code
N5Scan Printing Trouble Shooting
If the user is seeing a message that says Open Printer Cover, the printer cover on the bottom of the unit is closed and needs to be opened. there is a release lever at the bottom of the device that will release the printer cover.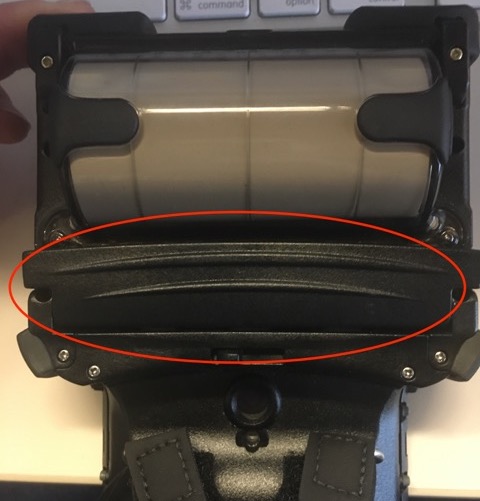 N5Scan Credit Card / Barcode Scanning Trouble Shooting
If the unit wont print, swipe or scan the units battery may be depleted. The N5Scan unit has 2 batteries, one that powers the phone and one that powers the devices peripherals (Orange Battery). This battery also charges the internal phones battery but when the peripheral battery dies the phone battery may still be charged and working. Check the status lights in the upper left of the device to see if the unit is connected. If there are no lights the battery is most likely dead. If the battery light is lit then the N5Scan helper may not be activate. You can either close and reopen the aVMDT which will attempt to restart the service OR go into the phones applications and run the N5Scan Utility to activate the peripheral