How to Reach Hudson
We welcome your communication and would love to explore how a Hudson product could benefit your company.
Unfortunately, we are unable to answer transportation service related questions on behalf of our clients. For service-related questions, including lost & found, billing issues, and service comments, please directly contact the carrier who provided your transportation service.
The International Business Headquarters of The Hudson Group is located in Lawrence, Massachusetts, USA and is generally staffed Monday through Friday from 08:00 AM - 06:00 PM Eastern. The Headquarters office is usually closed Saturday, Sundays, and some Holidays.
Our main telephone numbers connecting all departments and extensions are:

(001) 978 531 1115 (USA)

+44 20 3880 8740 (UK)
Departments (for use with above phone numbers):

1 Business Development
2 TechSupport Queue (see options below)
3 Marketing
4 Accounting
5 Operations & Administration
6 Staff Directory
Tech Support Options

1 Business Hours Support
2 Tech Support Manager
3 Cloud Networking Support
4 Project Manager
5 After Hours Support
Staff & Employees
f you are seeking individual staff members and employees at Hudson, they may be reached by their 4 digit extension, at either of the main numbers posted above, when you reach the main auto attendant.
Mail
The Hudson Group
360 Merrimack Street
Building #9, Third Floor
Lawrence, MA 01843
Email: askhudson@hudsonltd.com
Shipping & Receiving
The Hudson Group
360 Merrimack Street
Building #9 - 3rd Floor
Lawrence, MA 01843
Visiting our Headquarters
Your visit is welcome and we suggest calling in advance so that we may be assured to be present when you arrive. You may follow this link to obtain general Directions to Hudson.
Need Immediate Assistance?
Use Live Agent Chat
Sometimes you have a really quick and simple question such as "Where can I find a report on vehicle utilization" or "Where can I find a KnowledgeBase Article on fare files". When you don't want to call the Support team, you can submit your request via Live Agent Chat. Look on this page for a link to start chatting session now. Nobody online at the moment? You can click the link and generate an email that will be forwarded to the support team. If you would like to learn more about our Live Agent Chat system for your own site, we would love to tell you about it! You can also find more information about the Chat system here.
Scan Me!
If you have the ability to scan bar codes with your smart phone, point the scanning application of your smart phone at the informational bar code below. You can then easily add The Hudson Group to your contact list, map the office location or send an email!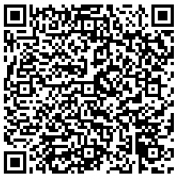 {neptune_page_bottom} {/exp:channel:entries}