Strengthening Your Brand with Hudson's Marketing Services
The Hudson Group is NOT just a software company; this is simply one of the professional services we offer to our clients. Hudson also offers a full suite of digital marketing services to clients who are ready to blaze a new path to productivity and profitability. We can become your outsourced marketing department – or an extension of your existing team - working collaboratively with you on campaigns and initiatives aimed at strengthening your online image and brand.
Available as ad-hoc or retainer-based commitment, Hudson can tailor a program to meet all of your digital marketing needs. Our team is comprised of industry veterans who specialize in multiple disciplines from web design and development, to content marketing, Search Engine Optimization (SEO), online reputation management and more.
We can assist you with:
Ready to Talk?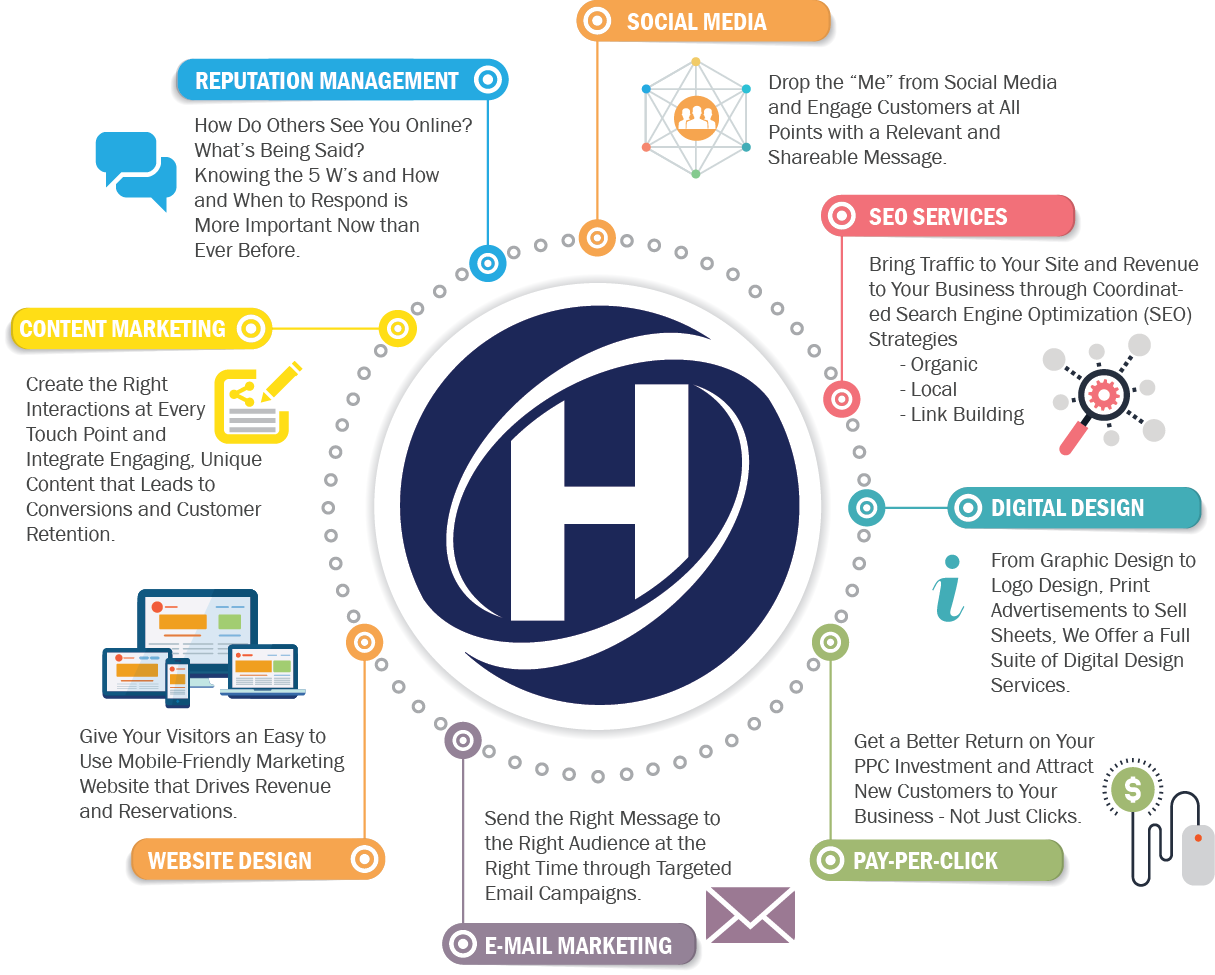 Our Approach
Setting mutual expectations is the key to a successful project and relationship. At the onset of each engagement, we work with you to identify your business goals, objectives, and project requirements. Armed with that information, we then propose an approach that aligns those goals to a scope, budget and schedule, which all parties will agree to before any work is initiated.
Completed by a member of the Hudson marketing team who knows the right questions to ask to ensure nothing is left uncovered prior to delivery of your proposal.

Projects are run by a Digital Marketing Manager or Strategist who understands the agreed upon scope and deliverables of the project.

Lead by a Digital Marketing Manager and/or Senior Designer working collaboratively with the client to ensure timely delivery of all required materials (i.e. logo, color, photographs, messaging etc.).

For web projects, Senior Designers create working HTML wireframes for consideration. For SEO, reputation management and other digital marketing services, a Manager conducts an audit and produces baseline reports along with a proposed implementation plan.

For web projects, development commences upon design approval; for all other digital marketing projects, the implementation process begins.

Digital marketing is never in its final state. The Hudson Group offers ad-hoc or retainer-based maintenance, fine tuning and enhancement services on each of its offerings.
Why Choose Hudson?
We KNOW this industry! With over 200 clients, we have the benefit of learning what works and what doesn't from each and every one of them. Many of our company staff have either owned or managed a transportation company before choosing to work here; giving us decades of ownership and management expertise. In fact, one of the main reasons people come to work at Hudson is so they can use what they have learned over the years to help clients who may be less experienced with some of the finer details of managing their company growth.
If the above isn't sufficient to convince you consider that we offer agency-level service without agency-level pricing. If you're a big brand like NIKE, you might be able to afford hundreds of thousands of dollars (if not millions) on digital marketing. Most businesses however need to be cost conscious, control their spend and carefully monitor their return on investment. At The Hudson Group, the marketing team measures its success by how successful we can help you to be; proposing strategies that will help your business and our business grow together. Our focus is on building lasting relationships through superior customer service and delivery.
Follow some of the links on this page to see some of the marketing services we offer. We hope that this will be the start of a more detailed discussion on what your needs are and how we will be able to help you achieve them.
---
Ready to Talk?
{neptune_page_bottom} {/exp:channel:entries}