Data Backup and Disaster Recovery
Life happens. Be prepared. Secure and protect your business with HGTS SafetyNet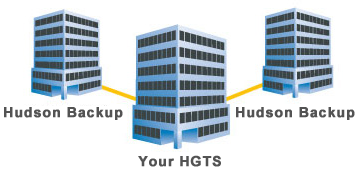 You can't prevent or predict when a fire, flood, theft, or vandalism will strike. These and other potential threats to your business operations are rarely foreseeable. The best way to prepare is to have a disaster recovery plan in place long before any of this occurs. HGTS SafetyNet will protect your business and keep your operations running smoothly in the midst of even the worst disasters.
HGTS SafetyNet is an automated database backup system. The SafetyNet application is installed on your network file server and connects anywhere from once to several times per day, uploading critical files to a secure, remote Hudson server. Your fare and configuration files, CSV's, client, reservation, trip, invoice, and profile details are securely backed up - preventing loss or downtime in the event of a disaster.
Should a disruption at your facility occur that warrants the activation of the SafetyNet system, call Hudson's Tech Support Emergency line. Within minutes, our staff will begin the restoration process, giving your staff the ability to connect to HGTS on our server. You will quickly resume your normal reservation, dispatching, accounting and reporting activities.
The SafetyNet program IS NOT intended to replace your existing data backup system or procedure. It is intended to augment your current backup system and help you to recover in the event that a "what-if" worst-case scenario were to strike your business. Download a document with some additional information about SafetyNet. You can also view a TechTips EXTRA article which outlines some enhancements included in HWeb SafetyNet 2.0.